Our Dream Team added two All-Stars this week!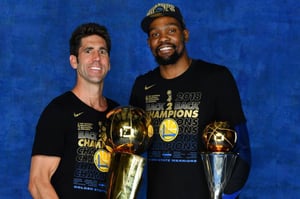 I've often wondered how Bob Myers (General Manager of the Golden State Warriors) felt when he signed Kevin Durant in the summer of 2016. Prior to the signing, none of us would have thought that a championship caliber team like that could possibly get better - enter Kevin Durant and just observe what they have accomplished since!
Now I know how he must have felt as I announce the addition of two coding and marking veteran all-stars to our team. Ken, Charles and I have all worked with both of these individuals previously and we are all extremely excited to have them on the team. Their incredible talents, extensive experience and infectious energy will have an immediate impact.
Without further delay, I'd like to introduce Tom Anderson and Cecilia Barcenas as the newest members of the Sneed Coding Solutions (Dream) team.
Tom Anderson - Business Development Manager
Tom is a tenured sales and marketing professional and a graduate of Ball State University in his home state of Indiana with an impressive career across various industries, including coding and marking. However, I think his most valuable asset is his experience as an owner of a multi-location restaurant chain. It is this experience as a business owner that allows him to connect with customers on a deeper level as he knows what it takes to run a business successfully.
Tom will play a pivotal role in meeting the company's growth objectives as we identify new verticals, new markets and future partnership opportunities to pursue. He believes in our mission and he can't wait to start helping prospective customers #KeepCodingSimple - delivering peace of mind when it comes to inkjet coding in their operations.
Cecilia Barcenas - Sales & Marketing Administrator
Cecilia brings nearly a decade of sales and marketing experience with her to the company. Prior to joining the team, she was the Sales Coordinator for a leading global oil & gas company where she held a customer facing position responsible for a complex fulfillment process including external communications and customer relationship management. She also has over five years' experience within the coding and marking industry which gives her a high level understanding of the various coding and marking technologies deployed throughout the industries we serve.
She will work closely with the entire sales and marketing team to develop, implement and organize relevant sales and marketing initiatives and campaigns which will include the company's social media presence and trade show exhibitions.
Welcome to the team, Tom & Cecilia!