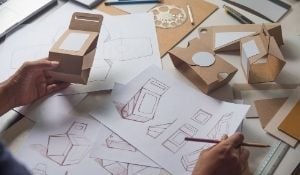 Product packaging design can be a time consuming and cumbersome project. Not only do businesses need to make sure the package is secure and keeps the product safe, but they also need to make sure that the branding of the package is on point. The packaging is the first part of the product that the consumers see, therefore businesses need to take advantage of the branding opportunity this presents. For a deeper look at how to boost your brand through product packaging, continue reading below.
Purchase High-Quality Equipment
As a business, you want to make sure your product's packaging and everything it entails looks good and is high quality. Buying cheap equipment and equipment not meant to produce the results you want will not end well. Instead, do your research to make sure your equipment can, and will, produce everything you need it to and more.
An example of a piece of equipment that each business should research before implanting it into their packaging production setup is the inkjet coding printer. Your coding printer legibly prints your barcode, important marks, and date codes that you need for industry regulations and safety. Additionally, you can use the printer to get the best logo, messaging, and other elements onto your products package. Making sure the printer your purchase is the best one for the job will make for high-quality information and images which will directly improve your brand.
Utilize What Makes You Different
No business is the same. Find what makes your business and your product different from your competitors and utilize it. One way to do this is with unique packaging for your product. Find a way to incorporate your business's uniqueness into the packaging and your brand will be unforgettable to consumers. If your company prides itself on using environments from the earth, for example, do your part to make your packaging represent that to the customer.
These two points outline exactly how to boost your brand through product packaging if you aren't doing it already. No company should allow for their packaging and the information on it to look bad. Every company should find and take advantage of what makes them great.
Here at Sneed Coding, Inc., what makes our company great is that we do what we can to #KeepCodingSimple. We want to make sure you have the equipment that you need to not only produce the best packaging but follow all the codes and regulations. To see if we can help you achieve this goal take a look online at our industrial inkjet printer today.