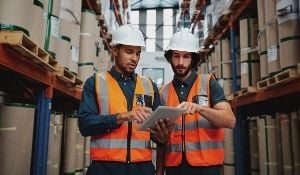 When running production and manufacturing for your business, you need to have a game plan. Step one of that game plan is understanding the requirements and necessities of the code and print application. You want to make sure to choose the correct production identification solution for your manufacturing and production needs. To properly do this, follow the details below regarding how to pick the best product identification solution. You will not be disappointed! Just make sure to carefully identify your needs and consider all elements before moving forward with finding the best product for your production line.
Requirements for Print Messages
Always keep your product in the back of your mind during this process, especially when it comes to this specific step. Knowing what type of information you need to include in your print message is an absolute must before moving forward. You want to make sure you include all the correct information. If the correct information is not there or is not displayed properly, it can cause a multitude of issues down the line. Depending on the product, manufacturers may need to include more specific information, including manufacturing codes or barcodes.
Other types of pertinent product information may include anything from the product name, the description of the product, the quantity of items, the ingredients that the product contains, or the item's nutrition facts. Regarding the manufacturing codes, this information may include the batch code, lot code, line code, operator code, and date cote (also known as the manufactured on or expiration date). The barcode requirements include but are not limited to EAN/UPC, 1D, 2D, GS1-128, GTIN-14, ITF-14, and other available barcode formats that could fit the specific product.
In addition to these different requirements for print messages, the manufacturer should also consider the application specifications and what type of packaging the product uses. It's important to consider this because it will make a big difference in the production line.
Requirements for Application
Being able to look at the different requirements that are necessary for your product will help you make the best purchase possible. It is important to understand where your product falls in marking and coding. You want to get the best product for your money, so it's crucial that you consider the following factors and requirements.
Always consider your packaging level. Will the product need primary packaging or secondary retail-ready packaging? Will it require case-level packaging or pallet-level labeling? The distinction makes a difference. It also makes a difference on what product packaging substrate you are using. Is it glass, metal, plastic, paperboard, cardboard, shrink wrap, or something other material?
How you are going to integrate these requirements is also a large requirement that you should consider. Are you going to form fill and seal the package? Will you need traversing equipment, case sealing, or case gluing? You should always consider line speed, specifically how fast and how many products want to be able to achieve. Last but certainly not least, you should always consider the conditions of the environment in which you are going to complete your coding and marking. This does make a difference in what device you pick, so identifying the answers to these questions will be very helpful and beneficial to you in finding the right item to purchase.
Identification Solution Options
Depending on the different areas you identified above, you may find several identification solutions that are right for you. There are numerous options available, but some are better than others depending on what you are trying to do, the rate you are trying to do it and, and where you are printing. Make sure to always consider all these elements when deciding which device to purchase.
Some of these options include small character inkjet printers, thermal transfer over printers, laser coders, thermal inkjet, high-resolution inkjet, print and apply labeling and label applications, and more. Considering the needs of your product will lead you to the best option, and picking the best option for your product will lead you toward success.
Message Validation and Levels
You don't want to assume anything when you are in the manufacturing business. This step inhibits you from making that mistake. Validating the codes to identify that they are not only present but also accurate and scannable is an absolute must. If they are not, it is not only going to cause numerous issues in the future, but it will be a waste of your time and resources, as well.
There are several ways to identify that everything is working and good to go. Scanners and vision systems are common elements of the production line that will report if there are any errors. There are three levels that they look at, the first one being if the identification is present. The second level looks at whether the information printed is accurate and if it matches the correct data and information. The third level assesses whether the information is scannable and allows you to obtain all the correct information that the code or marking is trying to establish.
After successfully considering all the elements explained above, you can begin making the right decision for your business. Follow these directions on how to pick the best product identification solution, including identifying your product's needs, understanding the requirements that you need to follow to identify your product, and adhering to the best ways to make sure you're doing everything correctly. Following these elements will help you make an educated decision on your final purchase. You want the manufacturing process for your product to go as smoothly as possible, and here at Sneed Coding Inc., we want the same thing. We are trying to help you #keepcodingsimple so you can successfully and efficiently purchase the best products for your business!
The best part about finding the right product identification solution for your production line is that our team at Sneed Coding Inc. has the perfect marking and coding equipment for you and your business. Visit our website or contact one of our professionals to assist you in finding the best piece of machinery to add to your production line. You will not be disappointed!