This week we invited Stephanie Mear from Automated Marking, Inc. to introduce the latest one inch portable inkjet coder from REINER - the jetStamp 1025.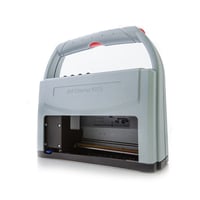 We are excited about this latest addition to the already impressive lineup of jetStamp printers. Over the years, increased print area is one of the most common requests we receive. REINER's jetStamp 1025 is a direct response to these requests with its solid one inch thermal inkjet printhead. This portable coder is packed with power and precision and it is one of the most adaptable and function packed handheld inkjet printer available today.
The 1025 utilizes a variety of inks that can print on porous and non porous surfaces including boxes, cartons, glass, plastics, metals and more. The 300DPI print cartridge is capable of printing 1D & 2D barcodes, graphics, logos, & alphanumerics – all in half a second. This unit is perfect for supply chain, logistics, cannabis, food & beverage, lumber, metal, contract packaging and countless other industry applications.
The zero-maintenance cartridge based system incorporated with REINER's industry unique self-traversing printhead makes keeping up with compliance and regulations a breeze. The 1025 boasts ERP/Database connectivity, single and multi-line imprint capability, up to a 1″ print height, and can print on a variety of sizes and shapes with ease. Versatility and German engineering at it's finest. Accelerate your production process with the 1025, you'll wonder how your company ever functioned without it.
About AMI | Reiner
Automated Marking, Inc. (AMI) is the exclusive Master Distributor of REINER inkjet printers in North America. AMI has been in the marking business since 1981 with a focus on handheld marking systems.
REINER, established in 1913, has its headquarters in Germany. Today the company is comprised of three operating divisions: numbering machines & electronic stamps, scanners and precision parts. REINER is viewed as a market leader of stamps in Europe & the United States, and of OCR-printing and scanner systems in Germany.
LEARN MORE ABOUT REINER JETSTAMP PRINTERS
HERE!