You spoke and we listened - new printers now available
Our handheld printer line started with the Meenjet handheld printers and then came the EBS Handjet printers earlier this year. We are now pleased to announce that we have also added the REINER jetStamp line of printers from Automated Marking, Inc. in New York.
Since we first started offering handheld printers, one of the most common requests we receive is a printer that does not require the operator to move the printer across the printed surface. We had been familiar with the jetStamp printers from our experience in the industry and knew that its self traversing print head would fit the bill for these customer requests.
The REINER jetStamp printers feature a unique capability absent from our other portable coders. Our other handheld printers require the operator to swipe the printer across the surface being printed. However, the jetStamp printers feature a self traversing print head that moves side to side automatically so the operator does not have to move the printer. This feature increases speed, efficiency and accuracy.
We added the jetStamp line of printers to the catalog in the spring and we have already seen positive results for this product line. The two most popular models available are the 790MP and the 970 Graphic.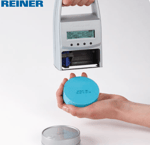 The jetStamp 790MP is ideal for customers looking to print small characters on materials including plastic, glass and metal. It has an easy to use PC software for programming and can store up to 10 messages on the printer's memory.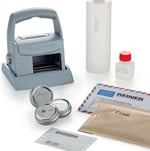 The jetStamp 970 Graphic features a larger print head and is also able to print barcodes or single color graphics. It utilizes a similar PC software for programming.
About AMI | Reiner
Automated Marking, Inc. (AMI) is the exclusive Master Distributor of REINER inkjet printers in North America. AMI has been in the marking business since 1981 with a focus on handheld marking systems.
REINER, established in 1913, has its headquarters in Germany. Today the company is comprised of three operating divisions: numbering machines & electronic stamps, scanners and precision parts. REINER is viewed as a market leader of stamps in Europe & the United States, and of OCR-printing and scanner systems in Germany.
Learn more about reiner jetstamp printers here!