Sneed Coding Solutions will be at Booth #5308
It is with great pleasure and excitement that I am announcing Sneed Coding Solutions, Inc. will cap off a tremendous year of growth with an exhibition at this year's PMMI Pack Expo in Las Vegas. Our team of all-stars looks forward to returning to the show and demonstrating our entire line up of inkjet coding printers.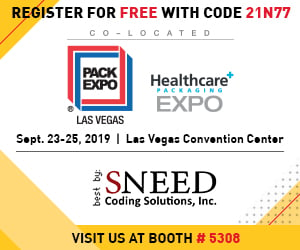 We will have an interactive booth with hands on demonstrations of our most popular printers. The printers on display will feature a variety of technologies and OEMs that we partner with. We will have handheld inkjet printers as well as conveyor mount printers for date coding on the production line.
Partners featured will include Meenjet, EBS Ink-Jet Systems, AMI / Reiner and our newly launched Sneed-Jet brand of one inch printers (handheld and stationary available)!
Meenjet Date Coding Printers
Meenjet is one of our preferred thermal inkjet OEMs - whether you need a fixed position printer or a portable inkjet coder for your operation, Meenjet has a printer for you:
EBS Portable Handjet Printers
EBS has been leading the globe in handheld inkjet coders for over a decade. They have a rugged, industrial design that is suitable for the toughest environments in any industry.
AMI / Reiner Handheld Coders
We will also have the REINER jetStamp printers at the booth to try. These printers feature a unique design with self traversing print heads that do not require the user to move the printer.
Sneed-Jet Inkjet Coding Printers
We are most excited to showcase our recently launched Sneed-Jet brand of one inch case coders - handheld and conveyor mount units. Both printers feature maintenance free thermal inkjet technology with one inch print heads.
Regardless of what you are in search for and regardless of the application, chances are we have you covered with one of these great printers. We encourage you to visit our booth and bring samples of what you'd like to print so our team of experts can help you try the printer in person while at the booth.
We look forward to seeing you there! Don't forget, you can register for free with our code 21N77!