Meenjet MX1 fits the bill for white ink printer need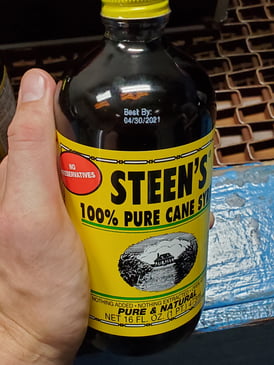 We are receiving more and more colored ink printer inquiries, specifically for white or yellow colored inks. Customers have long needed to code on dark surfaces, from amber beer bottles to black PVC pipe. As covered in an earlier blog post, until recently manufacturers didn't have many options other than a pigmented continuous inkjet system.
This type of system was out of the question for our customer Steen's Syrup outside Lafayette, Louisiana. Steen's Syrup is a local favorite and staple in the southern United States. Their pure cane syrup is packaged in a dark amber glass bottle - a very challenging material to print on.
Originally, they had been using another thermal inkjet coding printer for coding on their yellow caps with a black ink. However, there were concerns with printing on the cap as it can be separated from the bottle leaving the product with no best by date on it for the consumer's protection.
Dean Jeansonne reached out to us this spring after seeing customer videos of the Meenjet MX1 printer coding with white and yellow inks while searching for an affordable and efficient solution to date coding his dark amber bottles. Everything he had come across until that point was exorbitantly expensive and too complicated for their simple requirements.
After discussing his packaging line set up and code requirements at length with our team, Dean decided to purchase a printer, knowing that he had the assurance of our 30 day performance guarantee if the printer didn't meet their performance standards. Charles assisted Dean with the initial set up over the phone and we were fortunate enough to be able to visit Dean and his team in March, where I took the following video of his production line:
They love the Meenjet MX1 printer at Steen's Syrup and even made an additional purchase of the sister model, the Meenjet M6 Handheld, to code their boxes in the warehouse - stay tuned for another story about that!
Are you also in search of an affordable, efficient and easy to use colored ink date coding printer? Give us a call or shoot as an email - we'd love to answer any questions you may have.
And, remember, keep coding simple!