Top 5 Reasons SNEED-JET® Thermal Inkjet Coders are Ideal for the Food Industry
Did you know that you won't be able to see your snacks, condiments, meals, and other food items on shelves unless they have the proper codes? You don't have to spend an eternity peeling date code, lot code, batch code, barcode, and QR code stickers; there's also no need to add information using spray paint and stencils or an ink pad and handstamp. If you've been relying on one or more of these outdated practices, then you're more than likely used to information smudging, falling off, or being illegible; regardless of the case, with SNEED-JET® thermal-inkjet technology you can rest assured knowing that legible prints can be produced in seconds.
Thermal inkjet coding technology helps a variety of industries meet custom requirements; it's an especially important resource in the food manufacturing industry, seeing as though it helps new and established products meet retail regulations. If you're in the food industry and looking for a coding and marking solution that's as versatile as it is efficient, then here are our top five reasons to consider SNEED-JET ® thermal inkjet technology.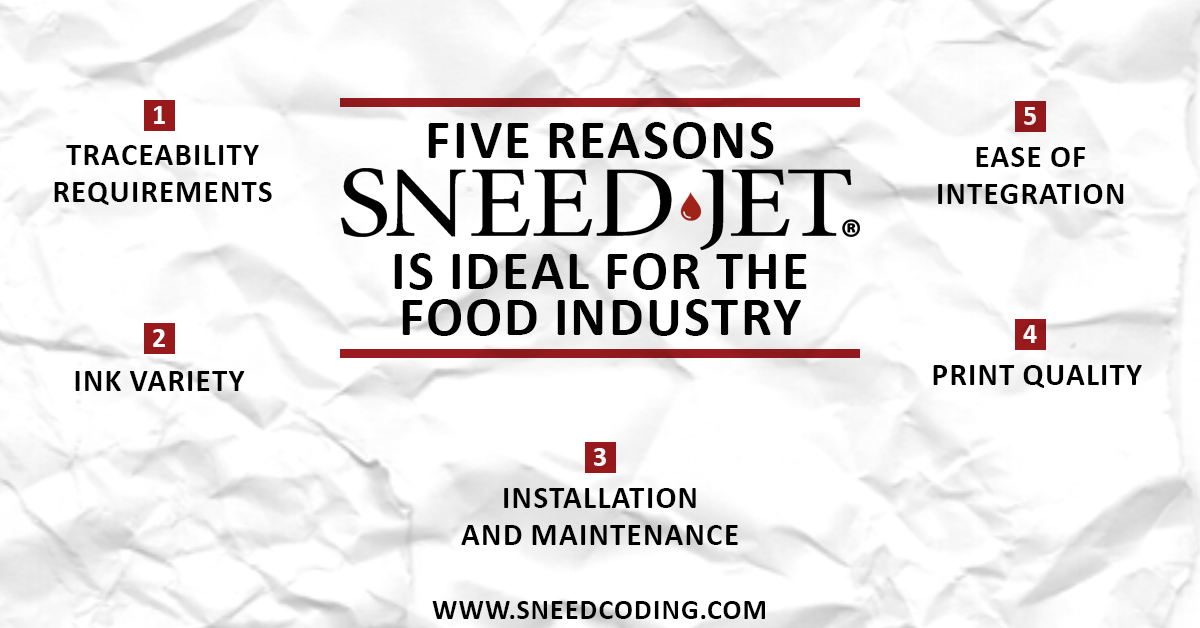 Traceability Requirements
Picture this, you're watching the news when all of a sudden it's announced that consumers have become ill after eating a certain product; afterwards, a recall notice is issued to inform other individuals that may have purchased the affected product as well. Typically on these announcements consumers will be asked to check the product's label for lot code(s), or other unique identifiers that may be listed on the label. Having traceability information on your products helps to streamline the recall process, so instead of wasting time and money recalling entire shipments, you can simply identify the affected portion using codes.
According to Eat This, Not That!, "PepsiCo recently issued a recall of 25,200 cases of Starbucks' vanilla Frappuccino coffee drinks after glass was found in some of the bottles; the recall was first initiated on Jan. 28 and is currently ongoing…The affected products were distributed nationwide and have a UPC code of 0 12000-81331 3 and expiration dates of March 8, May 29, June 4, and June 10, 2023. Rather than PepsiCo or Starbucks recalling every case of vanilla frappuccino nationwide, it's just a matter of finding the portion of product with those UPC codes, date codes, and expiration dates.
With SNEED-JET® thermal inkjet coding technology, meeting traceability requirements is a breeze; it's just a matter of selecting between an inline or handheld coder, configuring your information, selecting a print position, and finalizing the printing process using a conveyor and external product detector, or rolling the handheld across the surface of your product. Within seconds you're able to have clean-crisp prints that won't smudge or rub off with ease. With our SNEED-JET® inkjet coders, you're able to program 1-8 lines of text, so printing alphanumeric text, barcodes, QR codes, logos, date codes, time codes, batch codes, serial numbers, counters, and more is no issue.
Ink Variety
The material of which your product is made up of and the surface color will have a lot to do with the ink you select; once again your priority is to make sure that the ink not only adheres, but that it's also visible. While lighter colored products will typically stick to darker colors like black, red, blue, and green, darker colors will lean toward white and yellow inks. It's also important to keep your product's surface material in mind to make sure that you're selecting an ink that's going to adhere; the last thing you want to do is purchase an ink that's going to smudge. Not only are there a variety of ink colors to choose from, but you can also choose between water or solvent based ink; water based ink is ideal for porous surfaces while solvent based is best for porous and non-porous surfaces.
With other printing technologies, like continuous inkjet, it's not as easy to swap out ink colors; in fact, swapping colors usually consists of the painfully time consuming and expensive task that's known as flushing out the system. With thermal inkjet technology, you can swap out color cartridges in as little as 30 seconds; there's no need to hire a technician that'll need a couple of hours to flush out your system. In addition, you never have to worry about ink-spills with thermal inkjet technology because there are no pumps or fluids, everything that you need to produce a print is found within the cartridge.
While versatility and adhesion are important factors to keep in consideration, it's also important to know whether the ink is safe to come into contact with food; if it's safe to be consumed, or if it shouldn't come into contact at all. While we don't currently offer ink that is safe for human consumption, we do offer what's known as incidental ink; this type of ink is used on products that could potentially come into contact with the perishable item, but it's not meant to become a part of the product. If you've ever bought a salad or a ready-to-eat meal from the store, then you might have noticed those condiments packaged separately; those small packets still have to have some degree of traceability and that information is what's printed with incidental ink.
Print Quality
The information that's printed on perishable and non-perishable items needs to be clear, legible, and uniform; the last thing that manufacturers, distributors, and retailers want to deal with is deciphering information. With SNEED-JET® thermal inkjet technology not only will prints be produced in a matter of seconds, but you can even adjust the resolution at which they're printed. The highest resolution that's currently offered within our SNEED-JET® thermal inkjet line of coders is 600 dots per inch (DPI), but the resolution can be adjusted to as low as 150(DPI).
Quality printing is more than just a matter of resolution, there's also the visibility component; in this case, visibility comes in the form of character height. Depending on the thermal inkjet coder series that you select, you can print characters of less than half an inch, half an inch, an inch, or two inches; just keep in mind that the larger your print, the more ink is needed, and the more cartridges you'll need. With SNEED-JET® thermal inkjet coding technology, adjusting your print settings can be done in a matter of seconds, if not a couple of minutes; there are an endless amount of resources on our YouTube page, as well as on our site.
Ease of Integration
Are you looking to add a thermal-inkjet printer to your label applicator, flow wrapper, twist-rinse cage or even pouch sealer? While the idea of integrating a thermal inkjet coder might seem like a complicated process, it's actually a lot simpler than it would seem. According to our VP of technical services, Charles Collins, the amount of time needed to install a SNEED-JET® thermal inkjet coder varies depending on your current setup. If your existing equipment already has pre-drilled holes, then mounting a thermal inkjet coder will take less than an hour or two; after mounting, you'll still have to configure speeds and other settings. If your existing equipment doesn't have pre-drilled holes, then you'll have to figure out the mounting position; if this is the case, then your installation time might be a bit lengthier.
It's important to keep in mind that if the application that you're adding a SNEED-JET ® coder to has inconsistent line speeds, then it's important to add an encoder to it; with an encoder you're able to keep track of the speeds and when a print needs to be produced. If you have objects that are harder for the standard product detector to pick up on and need a specialized sensor that can detect those clear or reflective or continuous products, then there are a variety of sensors that can be paired with a SNEED-JET® thermal-inkjet coder.
Installation and Maintenance
It's thanks to thermal inkjet technology that we're able to "Keep Coding Simple" here at Sneed Coding Solutions, especially when it comes to the installation, configuration, and the maintenance aspect of owning a SNEED-JET® date coder. In terms of installation, it really depends on the series that you end up selecting. If you select a SNEED-JET® handheld batch coder, then in less than an hour you can configure your settings and have it up and running; if you select a SNEED-JET® inline lot coder, then you'll have to determine the mounting position and configure the settings to match your applications speed; this process may be a bit lengthier.
In terms of maintenance, there's no need for costly service contracts or extended down times; with thermal-inkjet technology, there's no long term wear and tear because every time that you replace a cartridge you're essentially replacing a printhead. In addition, you don't need a technician to flush out your system, fix jams, or replace parts; the most that you will ever have to do is clean the cartridge with a lint-free wipe and cover it within 5-10 minutes of idle time. If at any point in time you have questions or concerns about the equipment, our technical service team will guide you through it all.
Remember, if your product is missing traceability information, codes, message, etc., then it'll be nearly impossible to make it onto store shelves. Why struggle to add information onto your product(s), when you can simply add a SNEED-JET® thermal inkjet coder into your process and have those prints in seconds. Are you ready to #KeepCodingSimple?