From Rookies to Rockstars: How Our Team Members Transformed in Just 8 Months
Believe it or not, the world of coding and marking is much more immersive than what meets the eye, but let's face it, it seems that unless you're a part of the industry, it goes unnoticed. Us Rookies were no exception; it seems like just yesterday when we joined the team and knew absolutely nothing about the world of thermal-inkjet printers and traceability codes, and now here we are eight months later. We've had the opportunity to see the line of SNEED-JET® coders grow; we've witnessed the formation of SNEED-PACK, our line of packaging equipment; we've kicked off the "We're Coding Everywhere" tour, and plenty more. Not only has the company grown, but we can confidently say that we've gone from being Rookies to Juniors in the world of coding and marking, so let's look at our journey so far.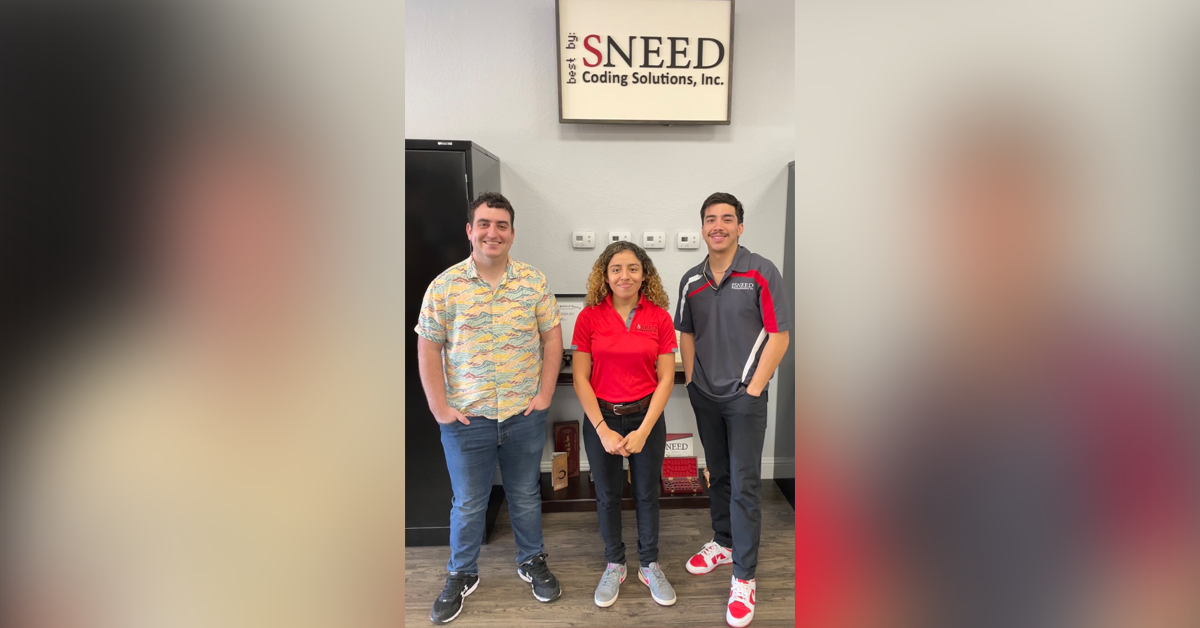 Our Content Marketing Copywriter's Journey
If I'm being entirely honest, I had no idea what thermal-inkjet coding was when I first applied, interviewed, and joined the Sneed team, but since then, I've realized how much of a difference it makes in the industry. One of the things that stood out to me the most about coding and marking was just how hidden in plain sight it was.
"Think about it whenever we buy anything, whether it's groceries, electronics, car parts, tools, etc., there's some form of traceability information found on the item; without that information present, we wouldn't be able to purchase products safely."
Working at Sneed has been such an eye-opener for me, especially since I've had the opportunity to work on different projects and interact with various industry professionals. Since joining the team, one of the projects I've taken the most pride in has been becoming the host of SNEED-CAST Industry Update; it's always interesting to see who's getting busted or what latest innovation has hit the market.
"Over the last eight months, I feel like I've refined my writing and public speaking skills with the number of blogs and videos I've gotten to create and be a part of. My skills aren't the only things that have grown; I feel a lot more settled in and comfortable being a part of the team, which makes it easier to collaborate with everyone."
While I haven't made it to the year mark, I can confidently say that working at Sneed has opened my eyes to a world that helps to keep consumers safe and manufacturers in check. Writing and speaking about so many different industries is fascinating, and I look forward to all the learning opportunities ahead.
Our Junior Account Manager's Journey
What could be better than seeing a company promote growth from within? How about a teammate eager to advance in his career and position in the company? When introduced, John Longoria joined the team as an Order Fulfillment Associate, and now he's our newest Junior Account Manager. From managing inventory and helping to ship out orders promptly to interacting with an endless number of customers and learning about our ever-developing product lines, it's safe to say that John has made the most of his eight months here at Sneed.
"The great thing about moving into sales is the consistent weekly discussions we have when going over everything we learned from that week's reading; not only are the discussions insightful, but the guidance I've received from the more experienced salesman has been extremely beneficial."
It's safe to say that John always had a knack for sales, even before becoming part of the Sneed team. Believe it or not, John's salesman experience actually started back when he was seven and in boy scouts; it then continued when he would sell shoes and furniture; eventually, real estate caught his attention, and now look at him, a full-blown Sneed junior account manager. Like John says,
"If you love what you do, you never work a day in your life. Sometimes, I catch myself coming to work, and it doesn't really feel like work; I manage to have fun, all while getting everything done."
John also tells us, "Being new to virtual sales is entirely different than in-person sales; thankfully, we have an excellent team helping me climb the sales ladder." Success is meant to be shared, and that's apparent here at Sneed because all our experienced team members are always willing to give our Rookies a hand when they need it. With plenty of room for growth and a team that's so willing to help, we're sure that by our next update, John will have progressed even further than now.
Our Digital Media Specialist's Journey
Let's face it, with so much content on the web these days, it can seem almost impossible to stand out; luckily, we have Quinton, better known as "Q," our Digital Media Specialist. Over the course of eight months, Q has managed to work on everything from visuals for product launches, to email graphics for our We're Coding Everywhere tour, to intros for our SNEED-CAST episodes and much more. We can all agree that a picture is worth a thousand words, and over the past eight months, Q has certainly spoken thousands.
The real question is, what projects have helped our Digital Media Specialist grow the most?
"The SNEED-JET® XL is a project I take pride in because we were able to develop the campaign and design from scratch, and even though this was my first time working on packaging design, our management team trusted me enough to have creative freedom."
Like the rest of our Rookies, Quinton needed to learn more about the world of coding, marking, and packaging, so over the past few months, he's made it his mission to learn how to edit graphics and videos in this industry to better reach our audience.
"Since joining the Sneed team, I've realized just how necessary coding and marking is for a variety of customers; I now understand that coding is applicable across various products ranging from food and beverage to auto parts and chemicals; overall, it's impressive to see how folks use our stuff."
We can all agree that the team here at Sneed knows how to work hard and play hard; there are moments in the day when we all zone into our work and others where we'll catch up with our coworkers and have a good laugh.
"Compared to our Rookie days, I know the folks who work here a lot better, so much so that now we can joke around as a team and open up about more personal topics. I also feel more confident discussing my coding and marking world knowledge."
Here We Grow Again
If our Rookies have grown this much in just eight months, can you imagine where they'll be once they hit the year mark? Alexa, John, and Quinton weren't our only Rookies to join the team; we also had a couple of new technicians join the team, as well as an order fulfillment specialist, so make sure to keep an eye out for our next Rookie update as we take a better look at the flannel channel members' journey.