Pairing the Most Innovative Smile Solutions with Our Top of the Line Coding Solutions
What Does WSD Labs USA Specialize in?
Having a nice smile can go a long way, some even say that it can change your life and who better to know about that than WSD Labs USA; they're a top-rated global OEM manufacturer, distributor and wholesale supplier of teeth whitening products. They're experts in creating customized smile solutions and they make it accessible for others to provide them as well.
WSD Labs USA is now a super supplier for the teeth whitening industry; they're known for creating custom formulas, products, packaging, and services. If you were looking to get into the teeth whitening business, then WSD Labs USA would be the place to go because they offer turnkey back of house services like inventory management, warehousing, fulfillment and beyond. They're firm believers in turning advice into action and putting your products into the right hands with high speed and low costs.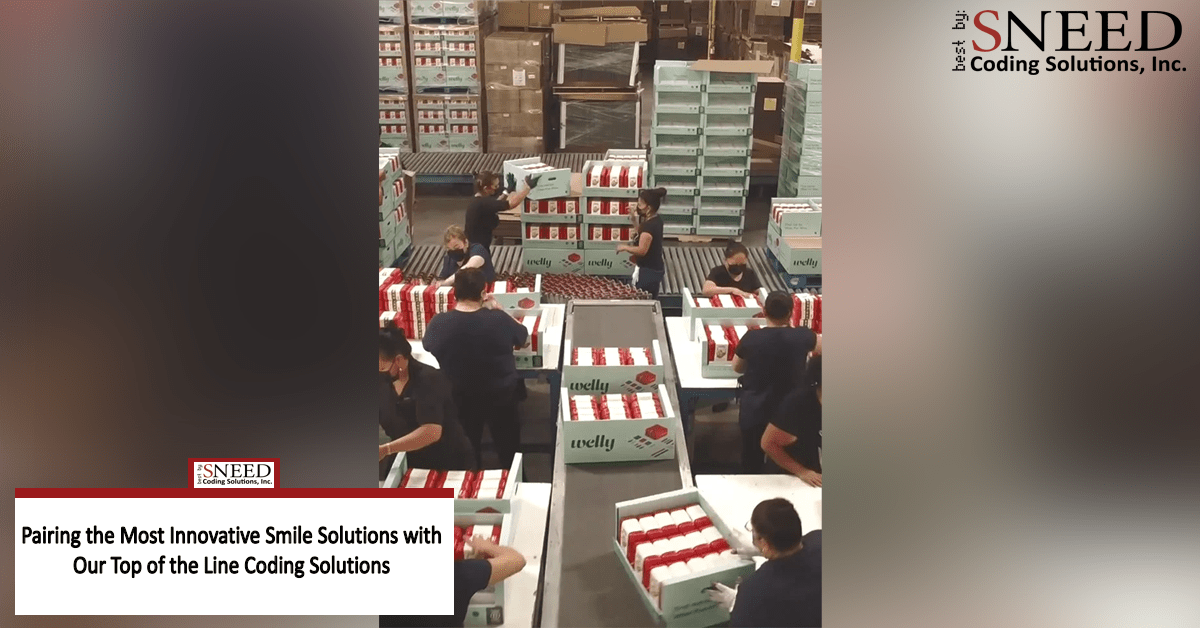 How Did Our SNEED-JET ® Titan T6 Save the Day?
Keeping up with demand is crucial, especially for a super supplier like WSD Labs USA, so finding a coding solution that could handle the workload was imperative; however, we weren't worried because we knew that our SNEED-JET ® Titan T6 was the thermal-inkjet coder for the job. According to Shena Bednarczyk, a warehouse manager at WSD Labs USA, their main priority was finding a printer that could print lot codes on their teeth whitening pens. Once the Titan T6 was implemented into their workflow, the team over at the lab let us know,
"The installation process was pretty easy, nothing too long; the printer itself has been helpful; it prints on 25,000 pens per week, and gets the job done faster than we ever could."
Remember, lot codes are necessary to keep track of items as they move through the manufacturing process; they can be used to identify recalled items or products with defects. Usually, lot codes are composed of letters, numbers, or even as a barcode, but it varies between manufacturers.
As opposed to having to apply lot code information by hand, over the course of 8-hour shifts, for days or weeks at a time, now all you have to do is swipe the Titan T6 across the product's surface and in a matter of seconds you have clean-crisp prints.
Why Should You Consider Adding a SNEED-JET® Titan T6?
There's no service contracts or technicians required when purchasing our equipment; and maintenance is minimal since there's no long-term wear and tear on the parts; remember, every time you swap out an ink cartridge, you're essentially working with a new print head.
Keeping up with demand is important, but having a team of experts at the ready to help you out is just as necessary; the team over at WSD Labs USA said,
"The technical support is very good, very helpful. We've had to call a couple of different times for issues, but they've always been super friendly, cooperative, accommodating, and they have resolved everything that has come up."
Don't hesitate to reach out to our experts whenever you have a question, regardless if it has to do with configuring your printer, cartridge issues, converting your printer, adding more SNEED-JET ® equipment, etc.
WSD Labs USA isn't the only company that's putting smiles on consumers' faces; our SNEED-JET ® Titan T6's capabilities are doing it as well.
Is your product in need of lot codes, date codes, batch codes, or any other type of traceability information?
Now's your chance to cut down on your coding and marking times and increase production, at a fraction of the cost.
Like always, we're #KeepingCodingSimple