historic turnout for our first major trade show
This year's Pack Expo held in Las Vegas was the company's first major marketing exhibition and initial results and reactions indicate it was a tremendous success. The team had a strong presence at the show with Bryan, Charles, Ken, Tom, Megan and myself on hand to answer questions and assist prospective customers with hands on demonstrations of our entire inkjet printer coding line (including Meenjet printers, Handjet EBS printers and REINER jetStamp printers).
Our booth was co-sponsored by our partners at Meenjet and they were also on hand to assist including Cheng (Owner), Jun (Marketing Director) and Nicole (Region Sales Manager). Beyond the normal activity of a trade show, we were all excited to strengthen the relationship on a more personal level with such a valuable vendor. At the show, Bryan presented Cheng with a Partner of the Year award in appreciation for their continued support of our efforts.
We were also thrilled to visit with our partners from Automated Marking, Inc. (principals Jeff and Julian Mear) along with representatives from the REINER factory in Germany on hand as we unveiled their latest (and our newest) one inch handheld printer, the jetStamp 1025. It's always exciting to have OEM representatives on hand to see their enthusiasm as they have an opportunity to discuss their equipment first hand with end users.
The handheld inkjet printers were a major hit at the show and we continue to be impressed (and suprised) with some of the ingenious ideas our customers come up with once they've seen the printer in action. We utilized an instructional easel with large note pad (common in classrooms) to show off the handheld inkjet coding printers and allow visitors to try them out on their own. Many customers even had some of their own packaging materials with them that we printed on site for them - in some instances leading to the customer purchasing on the spot!!
During the course of each day, we encouraged visitors to participate in our free handheld printer raffle - at the end of the day we would draw a winner for our top selling Meenjet M6 Handheld Printer. Tom Anderson and Ken Mogensen each had opportunities to present the lucky winners with their prizes (seen below).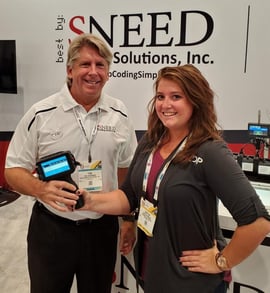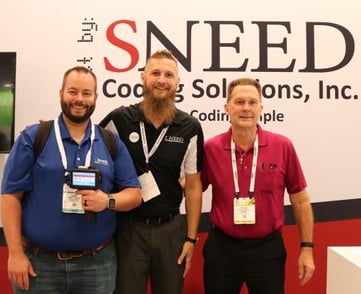 Left: Tom with Caitlin (Keurig Dr Pepper); Right: Ken with Chris & Steve (Arkema / Bostik)
Were you unable to attend the show? We'd love to connect and share with you some of the insights and ideas we learned from partners and customers alike. Were you at the show? Let us know some of your favorite products or ideas in the comments below.
And, remember to... #KEEPCODINGSIMPLE!